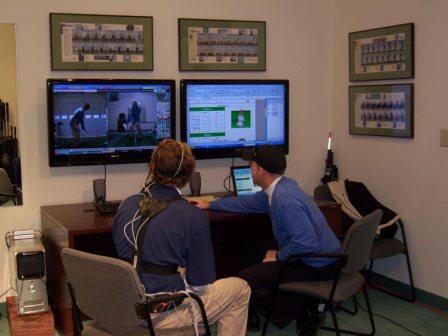 It can be challenging to improve your game without knowing exactly what it is that needs changing and then how to most efficiently execute that change. Working with a PGA Professional who spends the majority of their time teaching, and utilizing the latest technology to help with the process, is a great place to start.
Many teaching facilities have video based swing analysis systems these days. Their popularity with instructors and students alike have made them almost as important in a golf lesson as golf balls and clubs. Typically, the teaching professional will video you hitting some shots and play the video back through a computer system that allows frame by frame playback, lines to be drawn on the screen, the measurement of some angles and a comparison with PGA Tour Players that are stored on the system. The process provides you with an amazing understanding of what is happening during your golf swing. This makes it very easy for you and the teaching professional to agree on a clear plan for improvement. If you have never seen your swing on video before, it is something all golfers who are serious about improving should consider doing on a regular basis.
The next level in swing analysis that is being utilized by many of the leading club manufacturers and some leading Golf Academies, is 3D swing analysis. During this process you will usually wear a vest or something similar that has sensors on it. The sensors send information back to a computer that allows the instructor to analyze your swing at a depth not possible with video based systems. During a 3D swing analysis, you will be able to check many things including body rotational speed, changes in body angles and most importantly the timing sequence of your golf swing. 3D systems also contain the added feature of having a biofeedback mode where the system will give auditory queues based on how well you have made a particular move during your golf swing. This is the quickest feedback possible and results in faster learning and thus swing improvement.
These are just two examples of the technology that is now available to the golfer to help them improve their golf game. They are fantastic tools for giving greater insight to what is happening during your golf swing and thus what areas may need some attention if you are to reach your goals. If you are interested in having your swing analyzed using either the video or 3D analysis systems, please contact me at Lake of Isles and I would be happy to take you through either process.