The golf course offers many opportunities to work on your game and test what you have been practicing on the range and short game practice area. But you will only benefit from on course practice if you structure your time and play games that challenge your  course management and shot selection.
A game that I like to ask my students to play while they are on course is Flagstick Drawback. This game forces you to focus on a couple of key areas of your game. While it will require you to focus on your short game, it will also necessitate you being aware of where you are trying to place your approach shot on the green.
The game is played as you would normally play from tee to green, but once on the green the fun starts. If your ball comes to rest inside the length of the flagstick you may putt the ball out. If your ball comes to rest outside the length of the flagstick, you must pick up your ball and keeping the point where the ball lay on the green and the flagstick in a straight line, go to the edge of the green and drop the ball ten feet from the edge. Sometimes this will mean you drop the ball in the fairway, while other times it may be deep rough, a bunker or on the side of a hill. Once the ball has been dropped you can then play the ball out until it finishes in the hole. Keep score by counting your total number of shots played.
As you can clearly see this game will ask you to play a variety of short game shots from a variety of positions, thus testing your entire short game. What it will also get you to do is to carefully consider your target when playing approach shots. If you are close to the green you may aim at the flagstick with the goal being to have the ball finish inside the length of the flagstick. If you are a little further out, you will start to manage your approach shots so that when you draw the ball back off the green, you are dropping the ball in a place from which it is easy to get up and down.
This managing of targets for your approach shots is exactly the style of thinking you should have every time you play. By aiming towards sections of the green which are away from the biggest hazards, your missed shots will finish in better positions to get up and down, and you will avoid the big numbers due to penalties.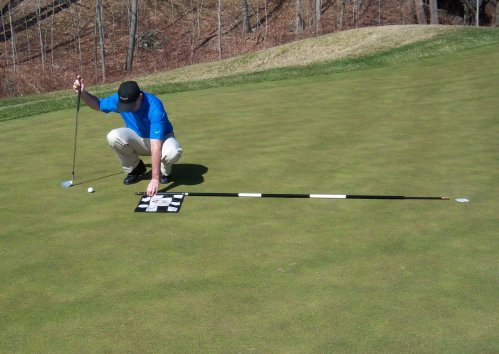 Measure the distance from the hole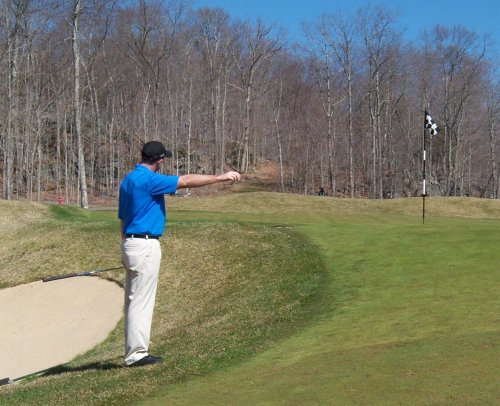 Drop the ball off the green