Too many golfers wander aimlessly through their practice sessions. They have no clue as to what are the strengths and weaknesses of their game and thus do not know what areas of their game require the most attention in order for them to play their best golf. Skills testing is a fantastic tool to solve this problem.
The short game skills tests devised by short game specialist Dave Pelz, is what I use with my students. I have found they give accurate feedback as to the areas of a students game that are strong and those that are weak.
This week I would like to share with you the Makeable Putts Skills Test. This is an improtant test for better players as this is the range of putts that if you can make a couple, it can transform your round. For players who score a little higher, this is the range where you must be assured of taking no more than 2 putts to get into the hole.
Take the test the next time you are at the course, complete the test and learn what your handicap is for Makebale Putts. Feel free to post your scores in the comments below. I would love to hear how you went.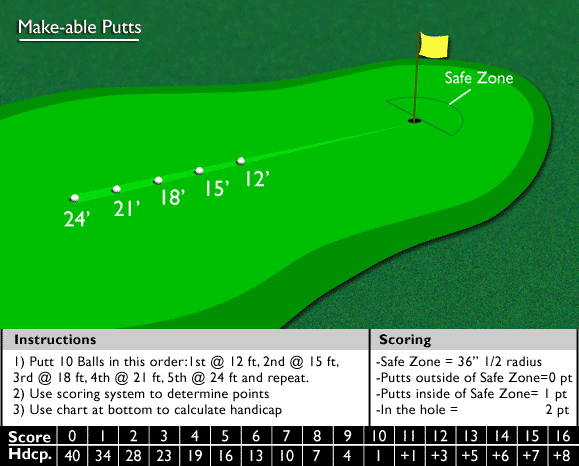 I hope you enjoyed this post. As always comments are welcome and appreciated.
Good Golfing
Derek
PS. If you really enjoyed this post, please consider helping me out and spreading the word below. Thanks!